Manhattan Criminal Court
Manhattan Criminal Defense Troy A. Smith | Manhattan Office:
Address:
244 5th Avenue
Suite 2312
New York, NY 10001
Telephone:
(212)726-2077
The Manhattan Criminal Court Building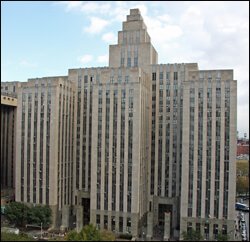 The Manhattan Criminal Court Building located at 100 Centre Street handles the majority of criminal cases in Manhattan.
Manhattan arraignment court was once famous for running 24 hours a day, but is now broken up into a day shift (9am-5pm) and a night shift (5pm-1am). All arraignment courtrooms are located on the first floor of 100 Centre Street. An individual arrested for a crime in Manhattan can expect to be in custody for 24 hours or longer before finally seeing a judge (NY Times Article). After the Criminal Court arraignment, the case is then transferred to either a misdemeanor or a felony court part depending on the severity of the offense. Hiring a skilled Manhattan Arraignments Lawyer such as Troy A. Smith may significantly cut down the amount of time you're in custody before a judge arraigns the case.
Most of Manhattan's Misdemeanor Cases are also handled in the Manhattan Criminal Court Building at 100 Centre Street. A small number of arraignments for Desk Appearance Tickets will be held in Midtown Community Court at 314 W. 54th Street.
The Manhattan Supreme Court Criminal Term which handles felony matters is housed in two separate buildings. Building One is located at 100 Centre Street – one block north of Worth Street between Hogan Place & White Street and approximately 3 blocks south of Canal Street. Building Two is located at 111 Centre Street on the southwest corner of Centre and White Streets.
Transportation To Manhattan Criminal Court Building
The Manhattan Criminal Court Building is located at 100 Centre Street New York, NY.
Train:
#4 or #6 to Brooklyn Bridge/City Hall Station
#6,A,E,M,J,N,R, or C train to Canal Street
#1 train to Franklin Street
Bus Lines:
M-1
M-6
M-9
M-15
M-22
M-101
Parking:
Parking during the day at any of the surrounding lots can be very costly. It's highly recommended that either mass transit or a taxi service is utilized.
Dining Near Manhattan Criminal Court Building
Both Chinatown and Little Italy are within walking distance – two blocks – of the Manhattan Court House Building. While you can find something to eat just about anywhere, Attorney Smith recommends Wo Hop at 17 Mott Street for its 24 hour convenience.