Weapons Possession or Sale
Weapons Possession or Sale
New York State has the distinction of being the state with the toughest weapons possession laws in the entire United States. This is due to changes to the law enacted in 2006 that toughened sentencing for gun possession. The offense was a Class-D felony under the old law, with judges using mitigating circumstances to issue penalties other than jail. Under the new law in effect since 2006, possession of a loaded gun is a Class-C violent felony and carries a mandatory minimum of 3 ½ years in prison, taking away any discretion on the part of judges to give lesser sentences without the consent of the local District Attorney's Office.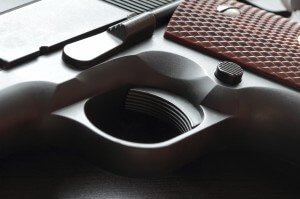 This change in the law is unofficially referred to as the "PLAX rule", for National Football League superstar and current member of the New York JETS, Plaxico Burress. In 2008, Burress, then a member of the New York Giants, accidentally shot himself in the leg while possessing an unlicensed handgun at a New York City night club. Burress faced a mandatory minimum of 3 ½ years in prison, whereas had the crime occurred prior to the change in the law, Burress likely would have only received a sentence of probation. Burress ultimately pled guilty to a lesser charge in exchange for a sentence of two years in prison only because of the Manhattan District Attorney's consent to this agreement.
Section 265 of the New York State Penal code deals with Weapons Possession and is extensive and detailed in its description of the various weapons considered to fall under the jurisdiction of the law. Everything from firearms to include rifles, pistols, and machine guns, to other weapons including, razors, switchblades, Chinese stars, gravity knives, and stun guns are covered in detail.
What this means is that there are provisions for breaking these weapons possession laws that extend to much more than simple firearms. Being arrested and charged with any weapons possession crime, or even being issued a Desk Appearance Ticket (D.A.T.), can translate into a very serious issue that will affect not only your personal life but your career as well. Bearing this in mind, having the most experienced criminal defense attorney by your side will provide you with the best opportunity for a fair and just outcome.
Troy A. Smith is a skilled criminal defense attorney with more than 25 years of trial experience having served previously as a New York City homicide prosecutor as well as criminal defense counsel in the United States Army. This is invaluable experience for any criminal defense attorney as having the ability to determine what the prosecution will do, what procedure they will follow, and what to expect, is one of the best ways of providing clients with the highest quality defense.
If you have been arrested or charged with a weapons possession or firearm related crime in New York of any kind, or if you have simply been issued a D.A.T., contact Attorney Troy A. Smith at (212) 537-4029, , or use the contact form HERE.