Queens County Criminal Court
Queens Criminal Defense Attorney Troy A. Smith | Queens Office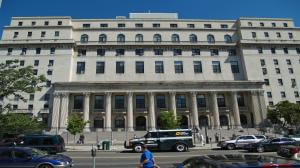 Address:
One Cross Island Plaza
Suite 212
Rosedale, NY 11422
Telephone:
(212) 537-4029
Queens County Criminal Court
The Queens County Criminal Court is located at 125-01 Queens Blvd. Queens, NY 11415 near Hoover Avenue & 82nd Avenue. The Summons Part can be found across the street in the Borough Hall Building. The first floor includes a few comforting amenities such as free wifi.
At the entrance to the Queens Criminal Court Building stands a stainless steel statue by artist Susumu Shingu called Dialogue With The Sun. This 30-foot tall statue is designed to respond with atmospheric changes. The statue's "wings" are composed of a half-disk and four quarter-disks that rotate in conjunction with the directions and velocity of the wind. Its surface is highly polished to clearly reflect the sky and surrounding landscape.
The sculpture will be at all times alive with motion. It will keep conveying the delicate and various rhythms of the wind to those who come to see it. It will bring a feeling of friendliness and warmth which will serve to ameliorate the solemn and dignified impression of the courthouse.
-Susumu Shingu
Queens County Criminal Court Arraignment Hours
Monday – Sunday: 9:00am to 1:00am
Desk Appearance Tickets (DATs), all other Court Parts, Clerk's Offices
If you're summoned to the Queens County Criminal Court for a Desk Appearance Ticket procedure, bring a criminal defense lawyer with you. Desk Appearance Tickets in Queens are heard on verying days, but not every day of the week. On any given DAT day, the Queens County Criminal Court will hear 200 cases on average. Criminal Defense Attorney Troy Smith can assist you in getting through the process faster and provide the chance for you to speak about your case before you stand in a courtroom.
Monday – Friday: 9:00 a.m. to 5:00 p.m. except holidays.
General Info: (718) 298-0792
Fax: (718) 520-4712
Queens County Criminal Court Transportation
Train:
Take the E or F train to the Union Turnpike Station
Bus Routes:
Parking:
Finding street parking near the Queens County Criminal Court can be an impossibility. Fortunately, there's a municipal parking lot between the Courthouse and Borough Hall. Parking will cost about $11 and it's cash only. Other municipal parking within the Courthouse area will cost much higher. Due to this, we recommend taking mass transit options or hail a cab to save on both time and money.
Dining Near the Queens County Criminal Building
There are many food options within walking distance of the Queens County Criminal Court Building. Across the street, you will find mainstay fast food options as well as delis and pizza joints.